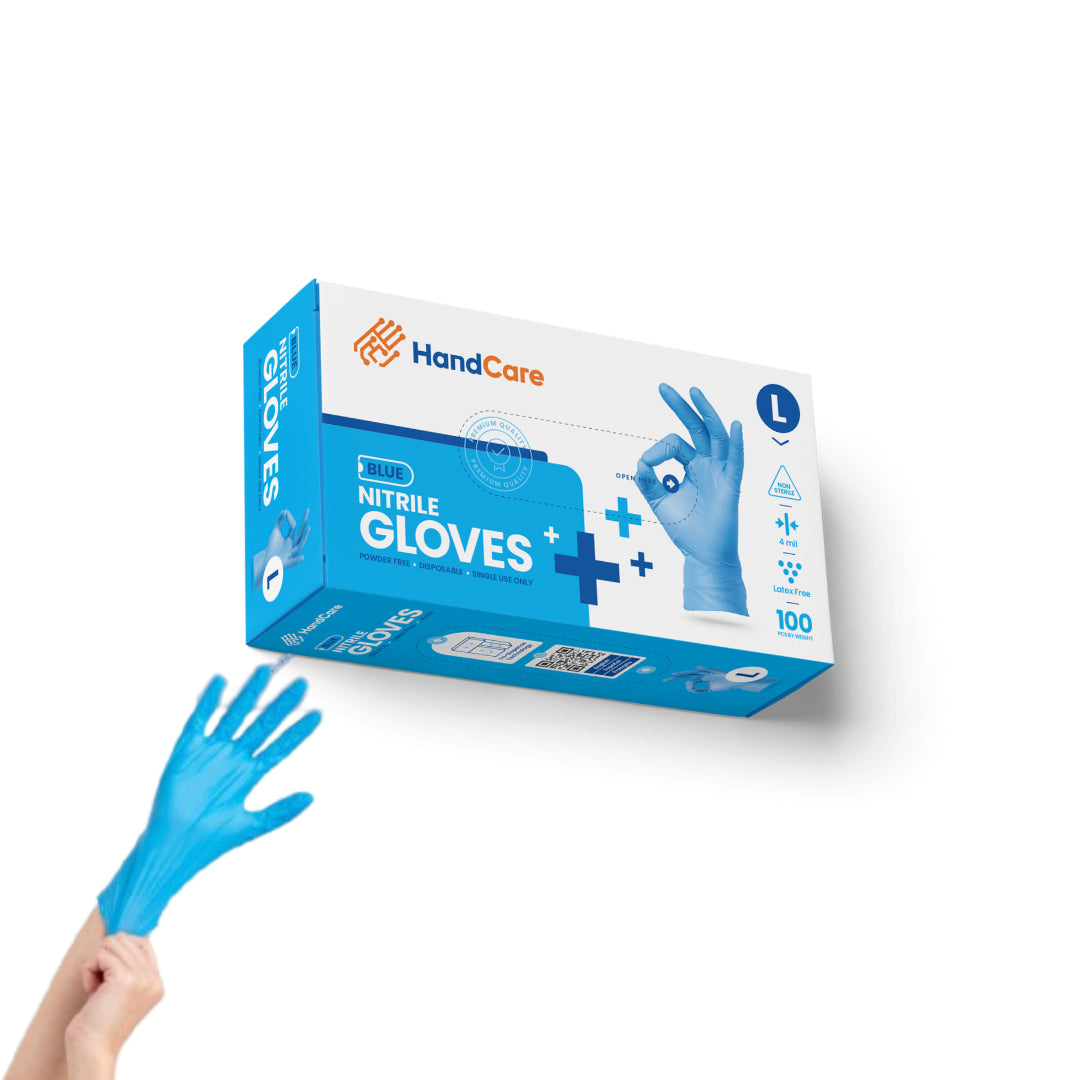 HandCare Blue Nitrile Gloves - Exam Grade, Powder Free (4 Mil), 1,000 Gloves
Product Description
When days are long and quality of work is critical, essential workers need tools they can count on. That includes a great pair of gloves. 
Our blue nitrile exam gloves are 4 mil thick, latex-free, powder free, and ready for action as soon as you put them on. With the comfortable design of traditional latex and the unique performance of nitrile, they're made for your most essential work. And when you buy from us, you can get your box at a price that can't be beat. 
Features of Our Blue Nitrile Exam Gloves
Looking for high-performing gloves? Nitrile delivers all the comfort and performance of latex with the unique benefits you only get from nitrile material. They're allergen-friendly since they are powder free and latex free, so you never need to worry about a patient or a user having a bad reaction. 
These gloves are also comfortable--just as comfortable and effective as latex. You get great grip so you never need to worry about tools slipping, and you also get a stretchy fit and loose cuff made for frequent and easy application and removal, eliminating the need for powder. 
Plus, like all of our nitrile gloves, these offer 4 mil thickness tested and approved to meet the rigorous standards set by the American Society for Testing and Materials. 
And with a sharp blue color, you can always count on these gloves to deliver a sleek, professional look. 
Highly Versatile Disposable Gloves
When you order from us, you get nitrile gloves that workers across a dozen industries trust to get the job done right. 
Uses for our blue color of nitrile gloves include: 
Medical exams

Food prep

Cooking

Counter tabs

Dishwashing

Janitorial

High-risk applications
So whether you're counting on our gloves for medical care, industrial work, or after-work cleanup, you can count on our blue gloves. 
The Medical Glove Industry Leaders Rely On
Don't take our word for it. Just look at the industry leaders who count on our nitrile gloves: 
Johns Hopkins Hospital

Northwestern Hospital

Maryland Military Department
Our gloves have also been featured in: 
Forbes
Bupa
Dentistry
Healthcare Design
Whether you're an individual or an organization, a corporation or a government agency, we've served them all, one glove box at a time, and we're proud to supply gloves that support essential workers all across the country. 
Order Gloves That Keep Up with Your Busy Days
For a powder-free, latex-free glove with the 4 mil thickness that holds up to your busiest days, look no further. This box of nitrile gloves gets your team the protection they need to do the work your community counts on. 
Ready to order? We've got you covered, whether you're ordering for yourself or for your entire organization. If you're buying for yourself, know that we process your order as soon as you place it so that you can get back to work knowing the gear you need is on its way. 
If you're ordering wholesale for your whole organization, get in touch with our customer service team. They'll be happy to set your order up right away and prepare your order for shipment.