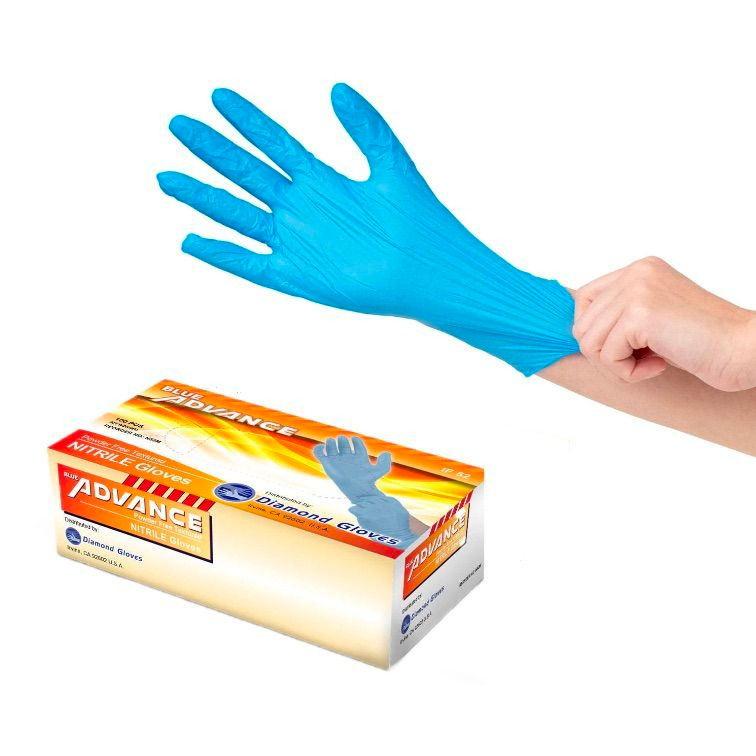 ADVANCE Blue Nitrile Gloves - Exam Grade, Powder Free (5 Mil), 1,000 Gloves
Product Description
 Looking for gloves that offer a comfortable fit and brilliant touch sensitivity? 
Then 5 mil blue nitrile protective gloves are for you. They provide extended protection against germs, viruses, and diseases while offering the right thickness and touch sensitivity protection. That's why they are trusted by doctors, dentists, construction workers, food businesses, artists, and more. They specifically make a brilliant choice for industrial work that involves chemical handling, dealing with hazardous materials, or working with machinery. 
Great Fit and Comfort
5mil blue nitrile gloves are 50% thicker and more durable than standard nitrile and other industrial-grade gloves, thus you get extra protection and comfort. They are 5-mil-thick around the palm, finger, and fingertips for exceptional hand protection.
Superior Protection
Since the gloves are latex-free and powder-free, they not only ensure less mess but also offer three times better chemical resistance than latex or vinyl gloves.
Enhanced Grip
The glove with textured fingers and palms provides excellent grip and tear protection under various conditions without compromising elasticity or comfort. 
You'll get an enhanced grip even when gloves are wet. With a polymer-coated interior, they are easy to wear and remove.
Wide Application
The  latex-free thick disposable nitrile glove makes an ideal choice for people working in medical labs, hospitals, manufacturing facilities, chemical production facilities, the food sector, and other high-risk places.
Product Specifications
 5-mil thick nitrile; medium duty

Color: Blue

Lightly textured/Micro-roughened fingertips

Latex-free

Powder-free

Industrial grade

Non-sterile

Polymer coated finish

Ideal for extended-duration use

Single-use only; Disposable gloves